What is an aerial obstacle/aerial adventure course?
An aerial adventure course is an obstacle course set high up in the trees! It requires a bit more physical exertion than a standard zip line tour. Our course has different levels that get more difficult and higher up as you progress. Each course has a series of unique obstacle elements such as ladders, tight ropes, balance beams, and wobbly bridges. The objective is to move from platform to platform while fully secured with harnesses at all times. Our park has NO motorized rides or activities. Your participation is the key element for a thrilling, exhilarating, and fun day. This is a physical activity and guests with medical concerns should consult their physician prior to participating.
Are Reservations Required?
We strongly recommend that you make reservations – we fill up quickly!
Give us a call to schedule your reservation at 208.423.8289 or Book Online
Do I need a parking pass?
Yes, A Farragut State Parking Pass is required. You may purchase at the Farragut State Welcome Center for $5 per car for a day pass.
What should I know before I arrive?
Wear closed toed shoes, no open toed sandals or flip flops.
Long hair needs to be in ponytail.
Dress appropriately for the weather. We are open rain or shine and will only close due to high winds or lightning.
Wear something comfortable for climbing. You will be required to wear a harness. Baggy clothing is not recommended.
You are going to be outside, so expect dirt, pollen and tree sap. You will probably get some on your clothes, so dress appropriately.
What is your Cancellation Policy?
Reservations require full payment. We require a 48-hour cancellation/modification notice prior to your reservation in order to fully refund your deposit.
We are open rain or shine, but on occasion, we do need to close for high winds and lightning. When this occurs, we will notify and compensate accordingly. If in doubt, or you have questions, please call (208) 423-8289.
What is the Proper Attire?
Closed toed shoes, such as sneakers, hiking boots, and closed toed sandals, are all permissible. No open shoes of any kind are allowed on the course. Shorts or long pants are fine, but remember we are in the trees, so beware of sap, dirt, bugs and pollen! Also, if you decide to wear shorts, we recommend at least mid-thigh length as your harness has leg straps that are generally uncomfortable rubbing on bare skin. Skirts and dresses are not permitted on the course.
What are the weight, height, and age restrictions?
Weight: We don't measure by weight, however the maximum girth at waist is 44" (for harness).
Adult's Course: Ages 10 +, with a reach requirement* of 5'11".
Kid's Course: Ages 6 – 9, no minimum reach requirement.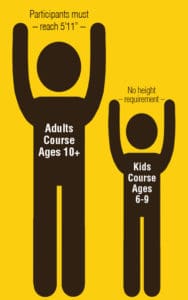 Not sure how tall you are? We'll check for you when you arrive.
* This measurement is taken from the ground to fingertips with both arms extended over the participants head.
Do I need a parent release to bring minors?
Yes. Anyone under 18 must have the participant agreement signed by a parent or legal guardian if going into the trees. One adult must stay on the property while minors play in the trees.
What's the price of admission?
Kid's Course – $35
Adult's Course – $40
*Please note that these are separate courses. For safety reasons, those with a reach less than 5'11" will complete the kid's course. There will be guides to help your children through the course, but we do not permit adults to climb the kid's course.
Season Passes are available! Call for more details.
Season Passes are valid from date of purchase through that month the following year.
We regularly offer these additional discounts:
10% off for groups of 10 or more (use promo code groups10 at checkout)
10% Military discount for anyone with military ID (Please call for discount)
10% Senior Discount (65 or older) (Please call for discount)
Can I go on the kid's course with my child?
Ages 6-9 only will complete the kid's course. There will be guides constantly circling the course from the ground to help when needed, but we do not permit adults to climb the kid's course.
What if the weather is bad?
We are open rain or shine! However, the park will close during high winds or lightning for your safety. Give us a call if you are concerned about the weather and your reservation!
What if I've never done this before?
Perfect! No prior experience is necessary. Everyone who participates goes through orientation and training prior to going up in the trees. Guides will be present to help you out if needed.
Do you have places I can store my valuables?
We suggest you leave your valuables at home or in your car. We can hold your keys for you!
How long does it take?
The adult's course takes 2.5-3 hours to complete.
The kid's course take 1.5-2 hours.
How high does it go?
The courses increase in height as you go.
The kid's course (including 2 separate aerial adventure courses) starts at 10 feet up in the trees with a max height of 25 feet.
The adult's course (including 4 separate aerial adventure courses) starts 10 up with a max height of 40 feet up in the air!
How many ziplines are there?
There are zip lines interspersed throughout the kid's and adult's courses.
How long is the longest zipline?