Join us for a full day interactive workshop, centered around learning the "physiology" of the brain and how it relates to empowering clients and employees to reach higher levels of success.
This program is designed for all those in a management or leadership role. Bring your Managers, Coaches, School Administrators, or other leaders, and lay the groundwork for a strong vital team.
The workshop's focus points will be learned and experienced through interactive discussion, low element group challenges, and the opportunity of going through our aerial adventure courses up in the trees.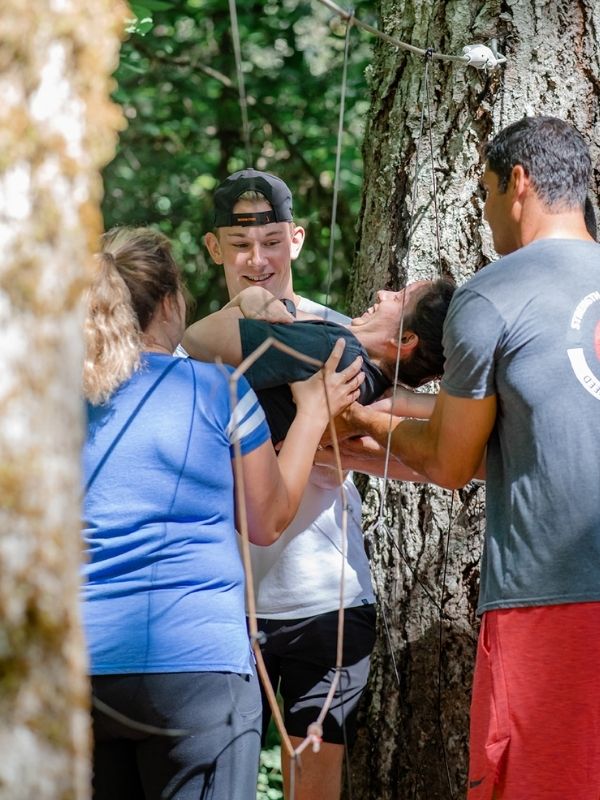 Popular Program Focus Areas
Insights on how individuals process information both internally and externally
Laughter's connection to maximizing brain function
Understanding how we respond to positive and negative valence to arrive at an objective solution
Benefits of the "Micro" and "Macro" leadership styles
Strategic Value Placement
Exercise in relation to creative problem solving
Solutions through the science of emergence
Motivate and cultivate other leaders
Encourage team input
Align their team with the goals of the company or organization
Identify strengths and weaknesses of each member
Our recent guests share their experiences.
We had the best time and staff was amazing. Staff went above and beyond to make us feel welcome!
The staff was helpful and went above and beyond to accommodate and make sure we had a blast! I loved that after the tutorial and a practice route you could spend the afternoon trying out different routes and exploring.
There were options for everyone and the location was beautiful and remote. Most importantly, the staff was absolutely wonderful. 10/10 recommend!!
BOOK YOUR TEAM BUILDING ADVENTURE
Use our online team-building inquiry form to book your event or contact us either by phone (503) 816.4890 or email to reserve a time slot for your team today.